Robert B. Ahdieh of Emory University School of Law
Listen to a recording of the first hour of the show.
Listen to a recording of the second hour of the show.
<!— DESCRIPTION BEGINS-->This week, we'll speak with Robert B. Ahdieh, Vice Dean of Emory University School of Law, for a discussion on the evolving field of law, including the Juris Master degree for healthcare professionals.
Robert B. Ahdieh, Vice Dean of Emory University School of Law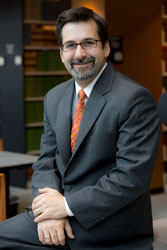 A graduate of Princeton University's Woodrow Wilson School of Public and International Affairs and Yale Law School, Robert B. Ahdieh served as law clerk to Judge James R. Browning of the US Court of Appeals for the Ninth Circuit before his selection for the Honor's Program in the Civil Division of the US Department of Justice.
While still in law school, Ahdieh published what remains one of the seminal treatments of the constitutional transformation of post-Soviet Russia: "Russia's Constitutional Revolution—Legal Consciousness and the Transition to Democracy." Ahdieh's work has also appeared in the Michigan Law Review, the NYU Law Review, the Southern California Law Review, and the Emory Law Journal, among other journals.
Ahdieh's scholarly interests revolve around questions of regulatory design. His particular emphasis has been various non-traditional modes of regulation, including those grounded in dynamics of coordination. Paradigms of coordination, though relatively less attended to in the legal literature, hold significant promise both in helping us to theorize existing regulatory patterns and in fostering new regulatory constructs.
Ahdieh has explored these issues in a variety of transactional areas, including corporate and securities law, international trade and finance, and contracts. Within these, Ahdieh's work has emphasized two particular patterns of coordination. The first—intersystemic governance—draws on domestic regimes of federalism and transnational regimes of global governance and subsidiarity, to highlight patterns of jurisdictional overlap that, in their very complexity, may offer significant benefits. The second—patterns Ahdieh places under a rubric of "The New Regulation"—draws more directly on coordination game dynamics, to highlight various non-traditional regulatory forms, as well distinct occasions for potential regulatory intervention.
During the 2007–2008 academic year, Ahdieh was a visiting professor and the Microsoft/LAPA Fellow at Princeton University's Program in Law and Public Affairs. In Spring 2014, he served as Douglas McK. Brown Visiting Chair in Law, University of British Columbia.

https://weeklycheckup.com/wp-content/uploads/2017/11/atlanta_500x500-1.jpg
500
500
johnlenz
https://weeklycheckup.com/wp-content/uploads/2018/01/wcu-logo.png
johnlenz
2017-04-30 13:14:41
2017-11-30 15:17:43
Robert B. Ahdieh of Emory University School of Law