Personal injury attorney Charles McAleer of McAleer Law
Listen to a recording of the first hour of the show.
Listen to a recording of the second hour of the show.


Charles McAleer of McAleer Law and Dr. Neil Lava, a neurologist from Emory Healthcare will be joining us for a discussion on Multiple Sclerosis, the importance of MS research, and the upcoming Bike MS Event.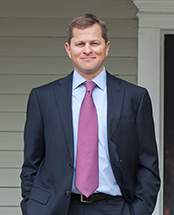 Charles McAleer founded The McAleer Law Firm, P.C., in 2003, to devote 100% of his practice to representing plaintiffs in cases involving personal injury, workers' compensation, and contract litigation. Each year, McAleer recovers millions of dollars for his clients and brings several cases to trial every year with outstanding results.
The type of cases McAleer brings to trial varies but includes cases that involve serious bodily injury and wrongful death but also smaller soft tissue cases. Unlike most firms, if an insurance company is unreasonable in its settlement negotiations, McAleer will bring all of his clients' cases to trial; not just the large cases but also the small cases.
After graduating from Emory in 1996, McAleer worked abroad for five years as General Counsel for an international manufacturing company. McAleer managed all litigation in which the company was involved. In addition, McAleer also negotiated and drafted numerous multi-million dollar (or Euro) transactions and managed key aspects of contract performance. McAleer also led a mergers and acquisition team through several purchases and mergers including post-transaction corporate integration.
McAleer has also been an adjunct professor of U.S. law at the University of Trier, Germany, which included legal research, torts, civil procedure, and contracts.
McAleer is an active member in good standing of the State Bar of Georgia, Georgia Trial Lawyers Association, The American Trial Lawyers Association, the Atlanta Bar Association, and the American Bar Association.
He lives in DeKalb County with his wife and three sons who attend DeKalb County Public Schools. He is fluent in German. He is an avid cyclist and also enjoys fishing in his spare time.
McAleer hosts a weekly radio show every Saturday morning at 9 on News and Talk 1380 WAOK. The show brings listeners sound legal advice, breaking news, current events, and other topics important to our community.
Dr. Neil Lava is a neurologist who has been practicing at Emory Healthcare in Atlanta, GA since 2007. He completed his residency at Albany Medical Center Hospital in Albany, New York in 1977. Dr. Lava specializes in neurology and psychiatry and has been board certified in those areas since 1979.
To learn more about the Bike MS Event and to donate money to Bike MS research, please click here.
To join Team McAleer Law in the Bike MS race, please click here.
https://weeklycheckup.com/wp-content/uploads/2017/11/atlanta_500x500-1.jpg
500
500
johnlenz
https://weeklycheckup.com/wp-content/uploads/2018/01/wcu-logo.png
johnlenz
2013-06-09 18:07:44
2017-11-30 15:38:48
Personal injury attorney Charles McAleer of McAleer Law