Listen to a recording of the first hour of the show.
Listen to a recording of the second hour of the show.
Dr. Ashley Alford of The Village Vets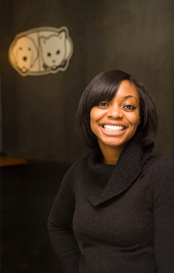 Dr. Alford grew up in College Park, GA and graduated from Westlake High School in 2001. She attended Tuskegee University and received her bachelor's degree in Animal and Poultry Science. Upon graduation, she continued her education at Tuskegee University's School of Veterinary Medicine, receiving her DVM in May, 2009.
Prior to vet school, Dr. Alford worked as a veterinary technician with Dr. Will at The Village Vets of Decatur.
Her personal interests include football, traveling, socializing with friends, and spending time with her fiancée, Trevor.
Dr. Matt Miller of The Village Vets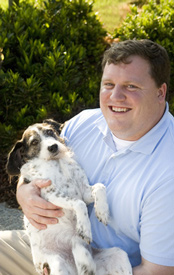 Dr. Miller was born in Anchorage, Alaska. Being a military brat, he lived in many different places before settling in Georgia. Dr. Miller graduated with high honors from the University of Georgia's College of Veterinary Medicine in 2003. Dr. Miller was honored as one of Atlanta's "Best Vets" in the Nov. 2010 issue of Atlanta magazine.
Prior to veterinary school, Dr. Miller worked as a technician with Dr. Will Draper in Tucker, GA.
Dr. Miller and his wife Stephanie have two children; daughter, Hailey, and son Benjamin. They also have two mixed-breed dogs, Sadie and Marty, and three cats, Leighia, Twisty, and Trinca.
He enjoys home renovation and spending time with his family.
Dr. Scott Miller of Georgia Urology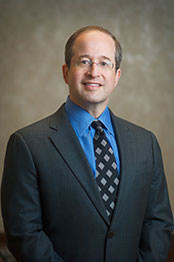 Scott Miller of Georgia Urology Having arrived in Atlanta in 1995, Dr. Scott Miller was the first urologic laparoscopist in the state of Georgia. Specializing exclusively in laparoscopic and robotic urologic surgery, he performs approximately 300 procedures of this type annually. He actively develops new surgical techniques and shares his methods and results with surgeons around the world.
Dr. Miller graduated from the Medical College of Georgia and completed his urologic residency at the University of Kentucky Medical Center. During his training in the early 1990s, his residency program was one of the first centers to embrace advanced urologic laparoscopy techniques. Seeing the virtues of laparoscopy before it was widely accepted, he was one of the first urologists to perform these procedures in a large scale outside of an academic center. In 1995, Dr. Miller performed the first laparoscopic kidney removal for cancer in the state of Georgia. He later performed Georgia's first laparoscopic prostate removal in 2000 and Georgia's first robotic prostate removal in 2003. He was also the first in the state to perform complex reconstructive procedures of the urinary tract laparoscopically. He currently has one of the largest and most diverse experiences in laparoscopic and robotic urology in the Southeast.
Dr. Miller is an active member of many professional societies including the American Urological Association, the Society of Laparoendoscopic Surgeons, and the Endourological Society. He has been board-certified by the American Board of Urology since 1997. Dr. Miller is continually committed to the education of others through peer-reviewed journal and book chapter publications, hands-on teaching, and scientific presentations.
https://weeklycheckup.com/wp-content/uploads/2017/11/atlanta_500x500-1.jpg
500
500
johnlenz
https://weeklycheckup.com/wp-content/uploads/2018/01/wcu-logo.png
johnlenz
2012-11-25 20:12:01
2017-11-30 15:42:35
Dr. Ashley Alford and Dr. Matt Miller of The Village Vets; Dr. Scott Miller of Georgia Urology