Dr. Andrew J. Kirsch and Dr. Scott Miller of Georgia Urology
Listen to a recording of the first hour of the show.
Listen to a recording of the second hour of the show.
<!— SOUNDCLOUD EMBEDS END —><!— DESCRIPTION BEGINS-->
Dr. Andrew J. Kirsch of Georgia Urology
Dr. Kirsch earned his medical degree from SUNY Health Science Center in New York, where he received two NIH Research Fellowship Awards and was inducted into Sigma Xi Research Society. In 2006, he was honored by his medical school as the Master Teacher in Urology.
He completed both a residency in general surgery and urology at the Columbia University College of Physicians and Surgeons in New York. He then completed his fellowship in pediatric urology at the Children's Hospital of Philadelphia at the University of Pennsylvania School of Medicine, where he was an American Foundation for Urological Diseases Scholar.
Dr. Kirsch is a past president of the Society for Fetal Urology, and is a member of the American Urological Association (AUA), American Association of Pediatric Urologists (AAPU), American Academy of Pediatrics (AAP), and Society of Pediatric Urology (SPU). He has written extensively in the field of pediatric urology, with emphasis on vesicoureteral reflux and magnetic resonance urography, publishing over 200 journal articles and book chapters. Dr. Kirsch has invented a surgical device and developed an endoscopic technique to correct urinary reflux in children that has become the standard of care for children worldwide. He has personally trained over 200 physicians on the procedure worldwide, and has throughout North America, South America, and Europe. He has served on the advisory committee to the American Board of Urology and was sub-specialty editor of the Journal of Urology. He also serves as a reviewer for The Journal of Urology, Urology, Journal of Pediatric Urology, and Pediatrics. He also serves as the membership liaison to the Section of Urology of the American Academy of Pediatrics and has co-directed courses on fetal hydronephrosis and urinary tract infection at the AAP. He has served on the executive committee of the AAP Section of Urology.
Currently, Dr. Kirsch is clinical professor and chief of pediatric urology at Emory University School of Medicine and a partner at Georgia Urology. He is on staff at Children's Healthcare of Atlanta where he serves on the Clinical Operations Committee and Clinical Research Oversight Committee.
Dr. Scott Miller of Georgia Urology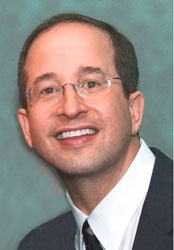 Having arrived in Atlanta in 1995, Dr. Scott Miller of Georgia Urology was the first urologic laparoscopist in the state of Georgia. Specializing exclusively in laparoscopic and robotic urologic surgery, he performs approximately 300 procedures of this type annually. He actively develops new surgical techniques and shares his methods and results with surgeons around the world.
Dr. Miller graduated from the Medical College of Georgia and completed his urologic residency at the University of Kentucky Medical Center. During his training in the early 1990s, his residency program was one of the first centers to embrace advanced urologic laparoscopy techniques. Seeing the virtues of laparoscopy before it was widely accepted, he was one of the first urologists to perform these procedures in a large scale outside of an academic center. In 1995, Dr. Miller performed the first laparoscopic kidney removal for cancer in the state of Georgia. He later performed Georgia's first laparoscopic prostate removal in 2000 and Georgia's first robotic prostate removal in 2003. He was also the first in the state to perform complex reconstructive procedures of the urinary tract laparoscopically. He currently has one of the largest and most diverse experiences in laparoscopic and robotic urology in the Southeast.
Dr. Miller is an active member of many professional societies including the American Urological Association, the Society of Laparoendoscopic Surgeons, and the Endourological Society. He has been board-certified by the American Board of Urology since 1997. Dr. Miller is continually committed to the education of others through peer-reviewed journal and book chapter publications, hands-on teaching, and scientific presentations.
https://weeklycheckup.com/wp-content/uploads/2017/11/atlanta_500x500-1.jpg
500
500
johnlenz
https://weeklycheckup.com/wp-content/uploads/2018/01/wcu-logo.png
johnlenz
2012-01-08 16:24:38
2017-11-30 15:50:16
Dr. Andrew J. Kirsch and Dr. Scott Miller of Georgia Urology