Dr. Michael A. Quiñones and Angelo Rizzo MS, PT, CLT
Listen to a recording of the first hour of the show.
Listen to a recording of the second hour of the show.
<!— SOUNDCLOUD EMBEDS END —>
<!— DESCRIPTION BEGINS-->This Sunday we will discuss the latest in cancer treatment and research from surgery to physical therapy with two experts, Dr. Michael Quiñones, one of Atlanta's premier surgeons, and Angelo Rizzo, Director of Therapeutic Solutions, Inc.
Dr. Michael A. Quiñones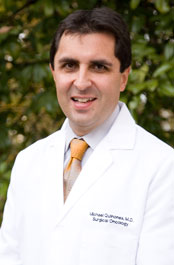 Dr. Michael A. Quiñones received his Bachelor and his Master of Science at Yale University, graduating with the highest honors possible. He received his MD from Harvard Medical School, also with cum laude honors.
He completed his surgery training at the Harvard Brigham and Women's Hospital and completed an American Cancer Society Fellowship. He also was a Cancer Research Fellow at the Dana Farber Cancer Institute, investigating the molecular biology of cancer.
Dr. Quiñones is published in nationally recognized journals and has consistently been named a Top Surgeon by the Consumers Research Council of America. He has also been a consistent Top Doctor in Atlanta magazine.
He is board certified, a fellow of the American College of Surgeons, a member of the Society of Surgical Oncology, and a member of the Association of Academic Surgeons.
Dr. Quiñones is a leader in his field and has served as chief of general surgery, chief of surgery, vice chief of staff, and chief of staff. He has been on DeKalb Medical's board of directors for ten years.
Angelo Rizzo MS, PT, CLT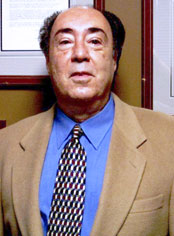 Orthopedic and Oncology Physical Therapy and Certified Lymphedema Therapist

Education
B.S. Degree Quinnipiac University 1974
Degree in Physical Therapy
Graduated Emory University 1978
Masters Degree: Orthopedic Physical Therapy
Post-Graduate Studies- 1991
Emory-Goizueta School of Business
Executive Business Program
Lymphedema Therapist Certification 2002
Klose-Norton Institute of Lymphatic Studies
Advanced Lymphatic Studies Certification 2004
Fioldi Clinic- Germany
Instructors: Dr. M. Fioldi, G. Klose, S. Norton
Employment
Yale New Haven Hospital Medical Center: 1974-1978
Senior physical therapist 4 years
President and Founder of Orthopedic and Sports Physical Therapy, Inc.
1980-1989 Six Atlanta outpatient physical therapy facilities
Pinnacle Rehabilitation 1989-1994
Director of Professional and Patient Education for 6 out-patient orthopedic and sports physical therapy centers in Atlanta
President and Founder of Therapeutic Solutions, Inc. 1994-present
Three Atlanta outpatient rehabilitation clinics in Decatur, Conyers and Marietta, consisting of physical therapists, massage therapists, and personal trainers. TSI Clinics specialize in rehabilitation of orthopedic conditions, oncology rehabilitation, osteoporosis, urinary incontinence, balance disorders, and lymphedema management. Therapeutic Solutions has developed a nationally recognized cancer fatigue program for patients suffering with severe fatigue from their cancer and cancer treatments such as chemotherapy, radiation, immuno-therapy and surgery.
Appointments and Elected Positions
Appointed Atlanta's physical therapy trainer by Mayor Andrew Young to work with the Summer Olympic Athletes training in Atlanta prior to the 1996 Summer Olympics.
National Osteoporosis Foundation (NOF) Appointments: Angelo held several positions with the National Osteoporosis Foundation including:
Former President of the Georgia Chapter of NOF
Former Chairman of the Medical and Scientific Committee for the Ga. chapter NOF
Former Member of the Southeast Regional Advisory Committee NOF
Former Member of 8-therapist task force for NOF formed to help create national exercise guidelines for the prevention and treatment of osteoporosis
Former director of the Atlanta chapter of the Osteoporosis Patient Support Group for NOF
American Physical Therapy (APTA) Appointments:
Former Vice-President of the Oncology Section of APTA (2 terms)
Former Chief Delegate for the Oncology Section to the APTA House of Delegates
Co-Author (with Carleen Lindsey PT, PhD) in a of Chapter on: Balance and Fall Prevention in a Special Issue in the clinical journal: Rehabilitation Clinics of North America entitled, Osteoporosis *
Member of the advisory board for the Georgia Osteoporosis Initiative
Angelo is a frequent speaker and educator to the Atlanta Medical Community, Support Groups and Public on the role of physical therapy, exercise and wellness for cancer survivors during and after treatment. Other specialty teaching topics include management and treatment of lymphedema, osteoporosis and fall prevention. Therapeutic Solutions is a unique outpatient physical therapy setting specializing in orthopedic and oncology rehabilitation and lymphedema management.
https://weeklycheckup.com/wp-content/uploads/2017/11/atlanta_500x500-1.jpg
500
500
johnlenz
https://weeklycheckup.com/wp-content/uploads/2018/01/wcu-logo.png
johnlenz
2011-12-04 16:43:57
2017-11-30 15:51:17
Dr. Michael A. Quiñones and Angelo Rizzo MS, PT, CLT