Listen to a recording of the show.
<!— SOUNDCLOUD EMBEDS END —>
<!— DESCRIPTION BEGINS-->Dr. Michael A. Quiñones discussed surgical treatment of breast cancer as well as his cosmetic practice.
Dr. Michael A. Quiñones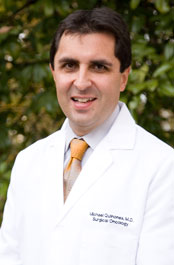 Bad economy influencing people to try to save money by not having cancer surgery.
Dr. Quiñones meeting more and more patients who are declining surgery due to the costs.
Breast cancer survivors: women suffering emotional pain from image issues are choosing safe reconstructive silicone implant surgery.
Types of implants/models: patients are more knowledgeable now due to internet research.
When you become a cancer surgeon (instead of general), you are more of a quarterback with the patient's care.
Breast cancer is 60% of surgical patients Dr. Michael A. Quiñones sees.
Dr. Q chose to be a cancer surgeon so he could be more of a total solution and more help to his patients.
Dr. Q advice: patients should feel comfortable with their physician and trust them.
Myth: removing the entire breast gives you better survival rate. Lumpectomy and mastectomy are equivalent.
Myth: needle biopsy to diagnose breast cancer spreads the cancer. Not true.
40+ needs a mammogram. There should be no debate about this.
If you are in a high-risk group for breast cancer, you should have an MRI once a year.
Average 1cm breast cancer lump has been growing for roughly 8 years.
Cosmetics: Dr. Q is helping his patients feel better and look better.
Michael A. Quiñones MD specializes in general surgery, breast surgery, and cancer surgery. He also offers a full range of the latest cosmetic treatments.
Dr. Quiñones received his Bachelor and his Master of Science at Yale University, graduating with the highest honors possible. He received his MD from Harvard Medical School, also with cum laude honors.
He completed his surgery training at the Harvard Brigham and Women's Hospital and completed an American Cancer Society Fellowship. He also was a Cancer Research Fellow at the Dana Farber Cancer Institute, investigating the molecular biology of cancer.
Dr. Quiñones is published in nationally recognized journals and has consistently been named a Top Surgeon by the Consumers Research Council of America. He has also been a consistent Top Doctor in Atlanta magazine.
He is board certified, a fellow of the American College of Surgeons, a member of the Society of Surgical Oncology, and a member of the Association of Academic Surgeons.
Dr. Quiñones is a leader in his field and has served as chief of general surgery, chief of surgery, vice chief of staff, and chief of staff. He has been on DeKalb Medical's board of directors for ten years.
https://weeklycheckup.com/wp-content/uploads/2017/11/atlanta_500x500-1.jpg
500
500
johnlenz
https://weeklycheckup.com/wp-content/uploads/2018/01/wcu-logo.png
johnlenz
2011-07-31 14:16:03
2017-11-29 21:25:07
Dr. Michael A. Quiñones