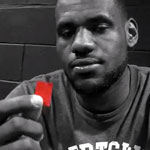 In our society, I believe that we are over-stimulated in general. And anymore, young adolescents are starting to use energy products that might significantly affect their development. Kids need to sleep, not be consistently wired and tired.
Marketing caffeine products towards young people isn't helping the problem.
Have you seen this commercial?
http://www.youtube.com/watch?v=8q95_PE8f4k
If you haven't yet, you probably will soon. LeBron James recently launched a 10 million dollar campaign to promote his new line of energy product called Strips. The product is similar to a Listerine breath strip that has about the same amount of caffeine as a large cup of coffee.
Numerous studies show that caffeine products can have negative effects on the developing neurologic and cardiovascular systems of adolescents and children. So let's keep the Redbulls, Rockstars, and now, Strips, in check.
Be well,
Dr. Bruce Feinberg
https://weeklycheckup.com/wp-content/uploads/2017/11/atlanta_500x500-1.jpg
500
500
johnlenz
https://weeklycheckup.com/wp-content/uploads/2018/01/wcu-logo.png
johnlenz
2011-06-21 15:31:14
2017-11-27 18:39:27
High Wire