Superfoods: Lycopene Rich Produce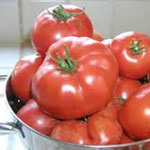 The sun is shining and we're surrounded by lush, fresh produce. Sounds like summertime, alright! Lately I've been thinking of ways to incorporate the best tastes of summer into cancer risk reducing tactics.
Do you know about the power of lycopene? Studies show that foods rich in the antioxidant lycopene can reduce the risk of prostate cancer as well as protect against heart and lung disease. Lycopene is found in red and pink fruits such as tomatoes, strawberries, raspberries, and watermelon. Lucky for us, now is the perfect time to indulge in these seasonal fruits.
One of my favorite things to do on a lazy summer afternoon is relax in the backyard with a slice of juicy watermelon. What about you? Do you have any great recipes with the aforementioned "superfoods?"
Be well,
Dr. Bruce Feinberg
https://weeklycheckup.com/wp-content/uploads/2017/11/atlanta_500x500-1.jpg
500
500
johnlenz
https://weeklycheckup.com/wp-content/uploads/2018/01/wcu-logo.png
johnlenz
2011-06-13 17:40:00
2017-11-27 18:39:27
Superfoods: Lycopene Rich Produce